Now remote-working has become the norm, many offices are getting quieter. Not only are there fewer employees around, the number of visitors has reduced as well. As a result, the role of the reception area has suddenly changed: in fact, you don't really need a reception, just a presence. This means the costs can no longer be justified, especially in a time when you really need to find savings. What follows is a handy, 7-step plan to switch to a virtual reception. The main advantage being average cost savings of € 90.000 a year. Let's explore further.
Step 1. Install a virtual receptionist
Do customers only visit your office occasionally? There is an easy solution. You can set up a safe, automatic reception for your visitors without the need for human intervention using a virtual reception. Visitors simply register themselves in and out. It is fast, contactless, secure and requires only a fraction of the usual operating costs. The virtual receptionist takes over all the classic reception tasks – receiving visitors, registering guests in and out, informing the host, etc., while maintaining respect for social distancing
Discover how the virtual receptionist works: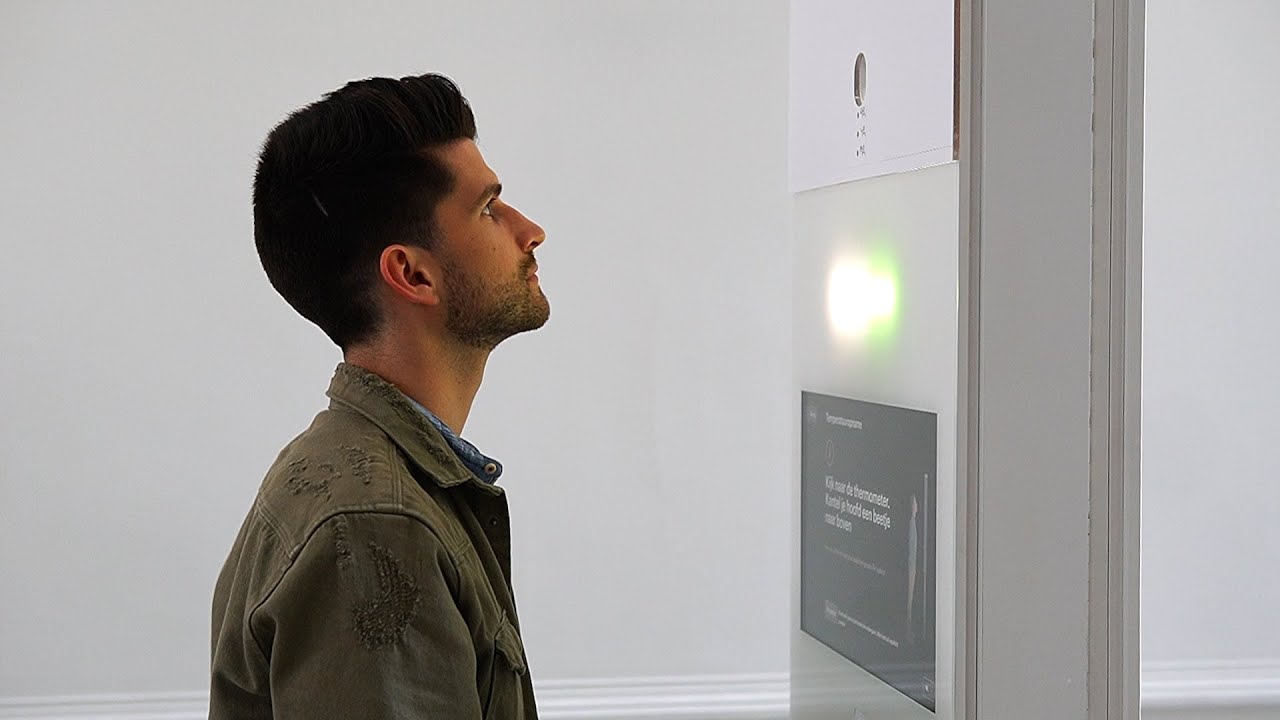 Step 2. Let everyone know about the prevention measures you are taking
Show your sense of responsibility and make sure all your visitors are aware of the corona prevention measures. The virtual receptionist can also take care of this job: by explaining your prevention measures, carrying out a Last Minute Risk Analysis (LMRA), allowing visitors to disinfect their hands, and checking their temperature, if necessary with respect to GDPR. Approved visitors will then receive an all-clear badge. This means everyone, including employees, can feel safe.
Step 3. Receive your employees safely
Speaking of employees: they can benefit from a virtual receptionist too. They can be given a short check-up every day, and be obliged to disinfect their hands before entering the office. This is an ideal way to ensure maximum safety and remove the corona fear in the workplace.
Step 4. Contactless and automatic reception of deliveries and parcels
Accept parcels from the courier and sign for receipt, keep track of the delivery at the reception, inform employees, etc.; this way of working is no longer viable in the post-corona era. Choose contactless deliveries and place a smart parcel box at the reception desk. This automates up to 30% of the tasks of the reception employee and avoids unnecessary physical interaction.
Step 5. Reduce the paper
It was a long time coming, but now is the time to put some effort into getting rid of the many "unnecessary" papers that arrive at reception every day. 75% of paper mail consists of invoices, reminders, and other accounting documents. But nowadays they can be sent, received and processed digitally. Contact your suppliers (and customers) and make arrangements to work exclusively with digital invoices and mail from now on. As an additional benefit, they will always be sent to the right department. It is possible to digitise up to 90% of all incoming mail within 3 months.
Step 6. Outsource the answering of calls
We have come so far already. Your mail runs digitally, your parcels are looked after by the (smart) parcel box, and your visitors are screened and welcomed by your virtual receptionist. But what about the phones? This is also easy to solve. You've probably noticed it yourself: most calls are taken directly on a mobile phone or by the employee's phone? The remaining incoming calls can be answered by a call centre. Employees receive an email and can call back when it suits them. This cost is also limited because you only pay for each phone call.
Step 7. Re-deploy your receptionist to more valuable tasks
Yes, but everything is automatic now. My receptionist is bound to feel happy and safe with this new normal. But are there still tasks that the receptionist can do? And that's what makes it really interesting. Give your receptionist more responsibility and assignments that really add value to your business, such as building and fleet management, office management and travel management. If you implement all 7 steps, significant cost savings can be achieved: have a look at the ROI calculation.