Company receptions changed for good by the coronavirus
The 9/11 attacks permanently changed our way of travelling. Strict security measures have been introduced in all airports. Similarly, company receptions will no longer be the same as before the coronavirus. For example: How should a receptionist receive and sign for a parcel and still respect social distancing? Where will he or she find the time to register every visitor or supplier and inform them about the prevailing preventative measures? How can he or she ensure that every one that arrives is screened for the virus and fever? How does he or she make visitors, customers, and staff disinfect their hands without someone escaping their attention? The answer is simple… it's just not possible. Even though you, as a company, do not want to expose your staff and visitors to such risks, no receptionist – no matter how capable – can implement such measures. And certainly not at 2 metres. So, how do you tackle this conundrum?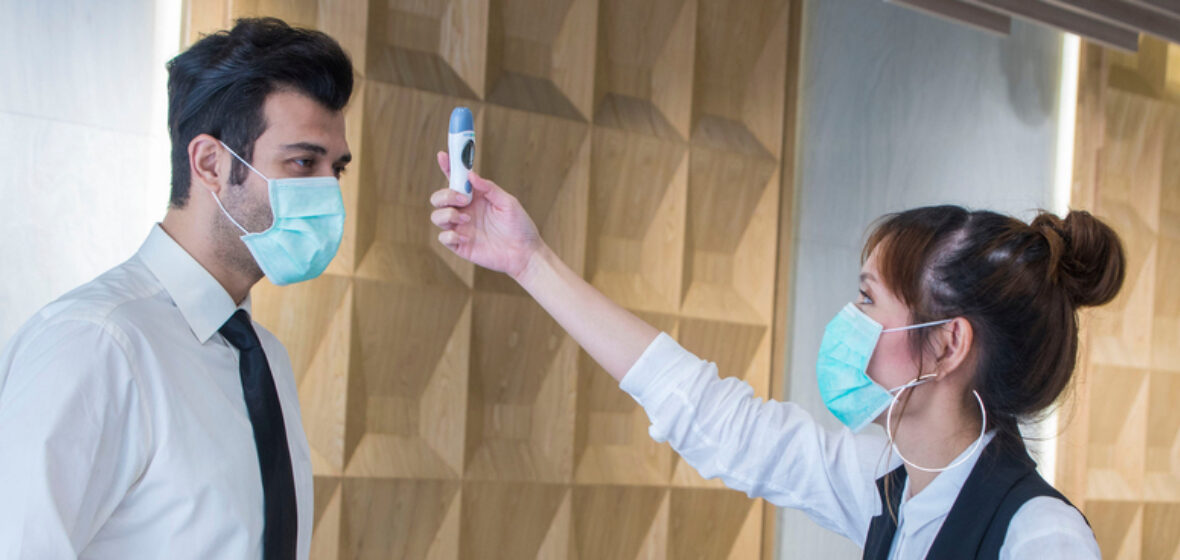 The traditional visitor management system is a thing of the past

The answer is… transition to a virtual receptionist. This consists of a Bringme Desk and Bringme Box. The desk handles visitor management in its entirety. It's a real corona spotter that automatically implements a strict selection process without any physical contact for everyone who enters your company premises. It not only takes over time-consuming reception tasks. It also handles the additional tasks required for the coronavirus measures that receptionists cannot handle themselves.
Download the roadmap to an efficient reception
The desk is equipped with an infrared thermometer and a hands-free alcohol-gel dispenser. Everyone that registers is tested for fever. If they have a fever, they will be asked to postpone their meeting or book a virtual one instead. This is done automatically and, of course, in accordance with the GDPR. Everything is communicated via an app in a privacy-proof manner. Does everything check out? Then the printer built into the desk prints an 'all-clear' badge.

And not just visitors are screened. Staff also take the quick test. They will certainly value this because everyone will be happy to know that no one in the workplace is sick. This process is automated, so it happens really quickly. It's fairly certain that there will be no queues. Because that's something you really want to avoid.

Contactless delivery management
Quickly receiving and signing for a parcel at the desk is just not possible within 2 metres. To guarantee social distancing, the smart desk has a smart post box: the Bringme Box for letters and parcels. This handles parcels and deliveries and streamlines courier and supplier traffic that enters your reception space each day. Couriers and suppliers complete their delivery autonomously: the box actually signs for receipt and the app sends a message to the recipient. From now on, the sending of parcels is completely automatic!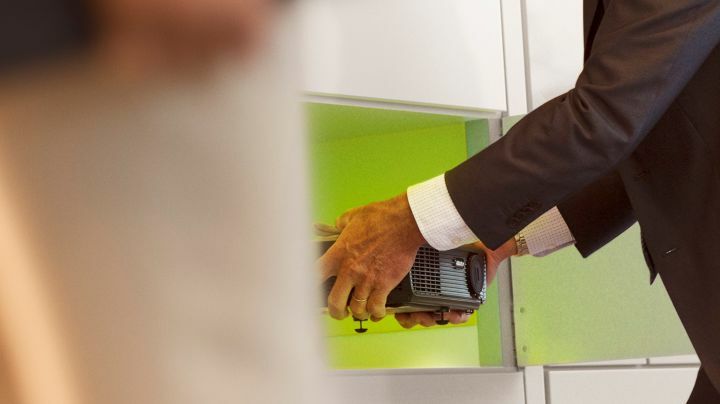 Implementing social distancing between colleagues

The box is also a terrific way to reduce the back and forth and direct contact between colleagues as much as possible. Need to provide a document? Did you order a new keyboard? Then select the recipient via the app and place the document or item in the box. The recipient receives an automatic message and the sender receives a delivery and pickup notice. Contactless goal accomplished!
And why does this save money?

First and foremost, the Bringme Desk allows you to digitise and automate more than 90% of repetitive reception tasks. When you combine the Desk with a Bringme Box, these take over the receptionist's new responsibilities and tasks needed to handle the coronavirus measures that would be impossible for them to carry out. This allows them to focus on tasks with more added value. And, best of all… you do not need to make a hefty investment because you can simply rent the box and desk.
This allows a company to save on average £50,000 euros per year with a virtual reception. Moreover, you reduce sickness absence. So, it costs you nothing. On the contrary… It actually makes you money.