Livin' in Leuven
Leuven is hot, there's no need to tell Leuven natives that. But how does the average inhabitant of Antwerp think about that? Or someone who lives in Brussels? Or a Dutch person? Although there are some good seasoned Leuveners in the Bringme ranks, most of us hail from outside of Leuven—or even outside of Belgium. That's why we asked Eva, who moved here from the Netherlands, for her opinion.
Bringme's roots are in Leuven and our employees are proud about that. But what does Leuven have that other cities don't? Eva (27), enthusiastic coffee addict and content marketeer at Bringme, has lived and worked in Leuven for about three years now. We wanted to know: how does our Dutch colleague feel about this city on the Dyle?
What does a (working) day in Leuven look like?
In the morning I walk to the office from the Vaartkom, one of Leuven's up-and-coming neighbourhoods. In Leuven you need only a fifteen minutes walk to get to the centre from just about anywhere in the city. Super convenient. My first stop of the day is on Diestsestraat.

Via Slack, I'd already let my colleagues know I'd be passing by MOK—Bringme's favourite coffee place—their answer: 2 flat whites, 3 lattes, and 1 large filter coffee. Every coffee buff will fall in love with this small but great coffee bar and roasting house. With my hands full, I walk to the office where I make my colleagues happy with our first (but definitely not our last) coffee of the day.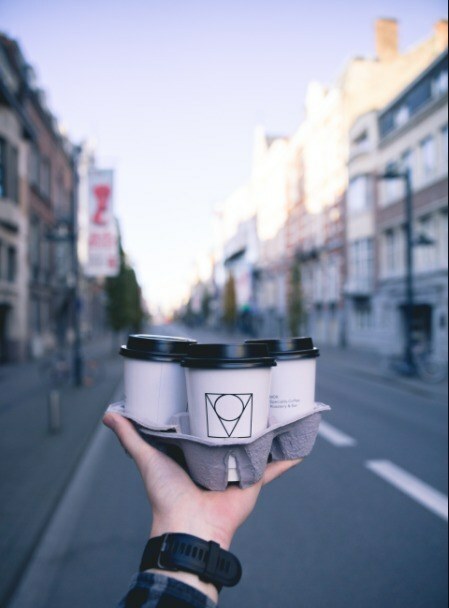 Where should visitors definitely go and have lunch?
In "the city of Jeroen Meus" you never have to go far to find good food. To be fair, we're a bit spoilt at Bringme: our offices are strategically located on the Bondgenotenlaan. You know, that 1-kilometer-long street from the station to the city centre. In the side streets, you can find all sorts of gems, from shops to places for lunch.

That means we're spoilt for choice for lunch venues. One of our steady hangouts is Sara's. A great joint with a lovely little courtyard. They don't just serve delicious sarnies with homemade pesto and a royal dose of avocado here; but also an amazing homemade iced tea, highly recommended!
And after working hours?
At the end of the workday, Leuven retains its charm. On Fridays especially, we often decide to head into town for a few bevvies. And where could be better than Leuven? This student city boasts no fewer than 33 bars just on Oude Markt. No wonder the square's called "the longest bar in Europe". So there are plenty of options. Not so long ago, we organized a party with the whole company at Social Club, a great venue above Barvista.

I'm already looking forward to summer, because then there'll be an even bigger party: Het Groot Verlof. All of creative Leuven then gets together to turn the city into one big stage with countless activities and gigs.
It looks like you're already quite at home here, as a Dutch person?
Yes, I love Leuven! And I dare you to prove me wrong: with its creative initiatives, the delicious food and our cosy office, it's hard not to fall in love with it.