How Ertzberg automates 90% of its reception tasks with Bringme's digital reception
Frédéric Dorange works as an office manager in a multi-tenant building that includes the Ertzberg real estate group. He ensures the working environment for employees and visitors remains professional and safe. Focusing on that task was not always easy, but Bringme's digital reception turned out to be a real game changer.
But thanks to Bringme's digital reception, the companies in the building can now
Run 90% of the reception tasks automatically
Be on 24/7 standby for visitors and supplier
Guarantee increased safety in the workplace and reduce costs
We used to work with two full-time receptionists, but things sometimes went wrong if someone was absent, or visitors or suppliers wanted to register after office hours. Since COVID-19, the number of visitors decreased, making it more difficult to defend the operational costs of the reception.
Two pairs of hands weren't enough
Even with two receptionists at his side, often Frédéric had his hands full when someone was on leave or sick. "More than once I had visitors registering at the reception while I answered phone calls or signed for receipt of parcels. It was not conducive to the visitor experience."
From four hands... to none
Today, Ertzberg takes a totally different approach to the reception situation. All the companies renting in the building use Bringme's digital reception, and this automates up to 90% of all the front desk tasks.
"Hybrid working increased the unpredictability of who was in the office and who was not. Couriers and suppliers now deliver their parcels to the Bringme Box. Employees can then pick them up at a time that suits them. I no longer have to intervene, and I still have the reassurance that the parcels will find their way to the right person."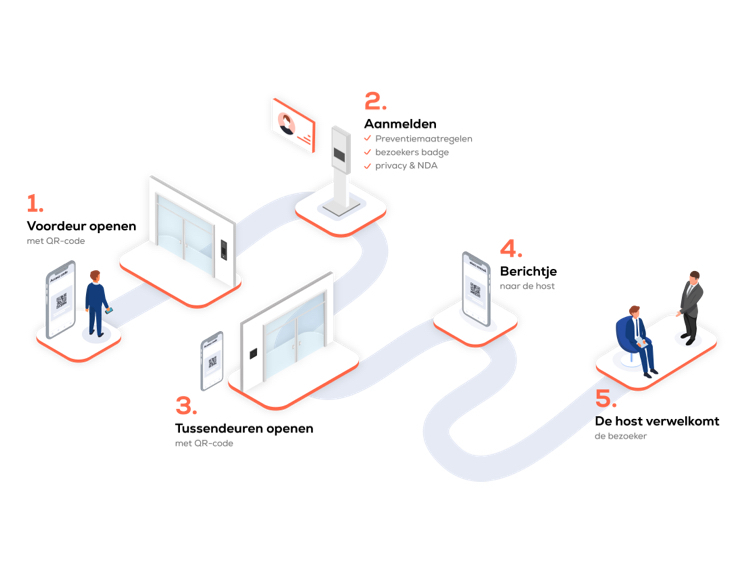 Higher efficiency, increased safety
The digital reception also ensures the front desk is more efficient and professional. "Visitors can register using a QR code, go through a flow independently, and receive a visitor badge. The host will then receive a notification that the visitor is waiting. I no longer need to intervene in this. It is also very handy to be able to see who is in the building. This is vital in the event of an evacuation in emergencies."
The ultimate win? More time for what really counts

"Both receptionists have been given a different position, and I have time to focus on other, valuable tasks. The unmanned reception is open 24/7, so I can take the time to onboard new employees. In addition, I can also take care of fleet management, travel management and facility management."
Customers and employees are also convinced
The icing on the cake for Frédéric is the enthusiastic response from visitors and employees.

There is nothing more satisfying than satisfied customers. The digital reception is a real game changer for all the companies in the building.