How important is the Bringme Box in the fight against climate change?
Bart Vercoutere, Hardware Director at Bringme, not to mention former director of i-Cleantech Flanders, board member of Natuurpunt and chairman of the board of experts for Leuven2030, explains the role of the Bringme Box in the transition towards a low-carbon community.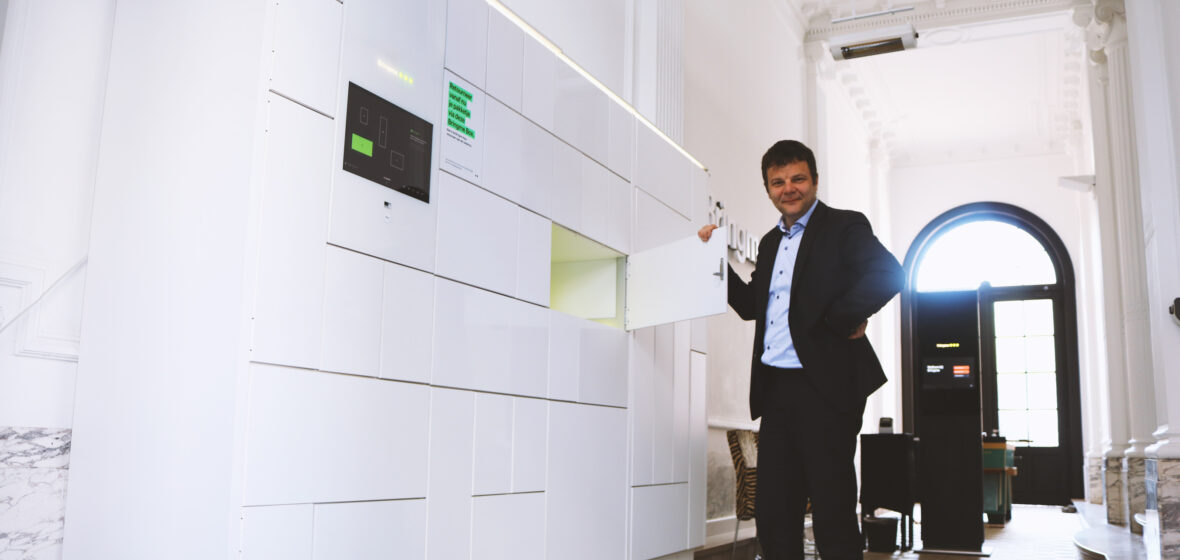 It is now or never in climate terms. The warnings from climate scientists are clear: we must act now to protect our planet. Meanwhile, it's clear there is no stopping e-commerce and the increasing stream of parcels. What's also clear is that this social evolution not only creates considerable cost, it is also a disaster for climate change and the cause of many additional vans on our roads.
It would be my pleasure to explain to you how our computer with doors, better known as the Bringme Box, can influence this problem.
Comfort as a success factor
The success of e-commerce is down to the fact it's easy and care-free, and saves the buyer considerable time. The Bringme Box was invented by our CEO in 2005, as a solution to make the lives of those living in apartments more comfortable, but in a sustainable manner. Online orders can be delivered in a Bringme Box at any time, regardless of whether residents are home. Being so handy, many people will use it, which is an important key to success.
But how does Bringme have such a big impact on the reduction of emissions?
1. No individual home deliveries
Bringme Boxes not only make life easy, they are also good for the environment. By installing them in the entrance hall of apartments and companies, many individual home deliveries are accumulated in a single location. That means a serious reduction in the number of trips made by couriers, and therefore less CO2 emissions.
2. No need for a second or third delivery
In 30% of home deliveries a courier must visit a second or third time because the resident is not at home. By delivering parcels in the Bringme Box at work or at home, we avoid such wasted journeys. Indeed, the box has a 100% first-time hit rate and is always ready and waiting to accept parcels.
3. Additional benefit on returned parcels
If you wish to return a parcel you can also do this using the box. This means there is no need for you, your colleagues or fellow residents to make individual trips to the post office from where it needs to be sent.
4. Deliveries and collection are combined
With the fact that couriers need to come around anyway for parcel delivery, they can also collect consignments and returns in the same journey. This saves the 'collection journey'.
5. No unnecessary journey thanks to smart data
Thanks to a Last Inch Operating System developed by Bringme to provide a clearer overview of logistics data, journeys can be planned much better. If there is nothing in the box for collection then they won't come around. No unnecessary journeys, but intelligent planning, which takes account of real-time information.
The impact does not stop at reducing CO2 and air pollution, as we also have a positive impact on the environment and the economy.
Sharing economy
Uber, AirBnB, Cambio are all expressions of the fact that we increasingly wish to share things and only seek functionality. Bringme's computer with doors is by its very nature a 'shared asset', you only use the Bringme Box when you need it and you share its use with colleagues or fellow building residents. We combine increased convenience in the smart city of the future with a reduction in the ecological footprint.
Local economy
With Bringme it is possible for every local retailer and service provider to deliver in the smart box. It is therefore an additional sales channel for retailers and local producers, supporting the creation of short-chain business models.
And the box itself?
Over 80% of the material in Bringme's products is of circular origin. All wood and aluminium is produced from 100% recycled materials and these can be fully recycled once again after use. Our product range not only facilitates a circular economy, it is also itself a product of this economy. And due to the modular design, boxes can be separated, repaired and reused in more than one lifecycle.
I can say without hesitation that every building, new building project or major renovation should be equipped with this smart system, as it is harmful to the environment not to do so. The Bringme Box clearly means fewer trips, less CO2 and above all better air!