How the oldest university proves to be the most innovative
The KU Leuven is one of the oldest universities in Europe. But that doesn't mean it's out-dated, as last year's decision to allow all 40,000 students to use Bringme proves. Great move! We're wondering how the students have found their first few Bringme weeks, so we head off to the learning centre Agora, where there's a Bringme Box, and more than 10,000 students passing by every month.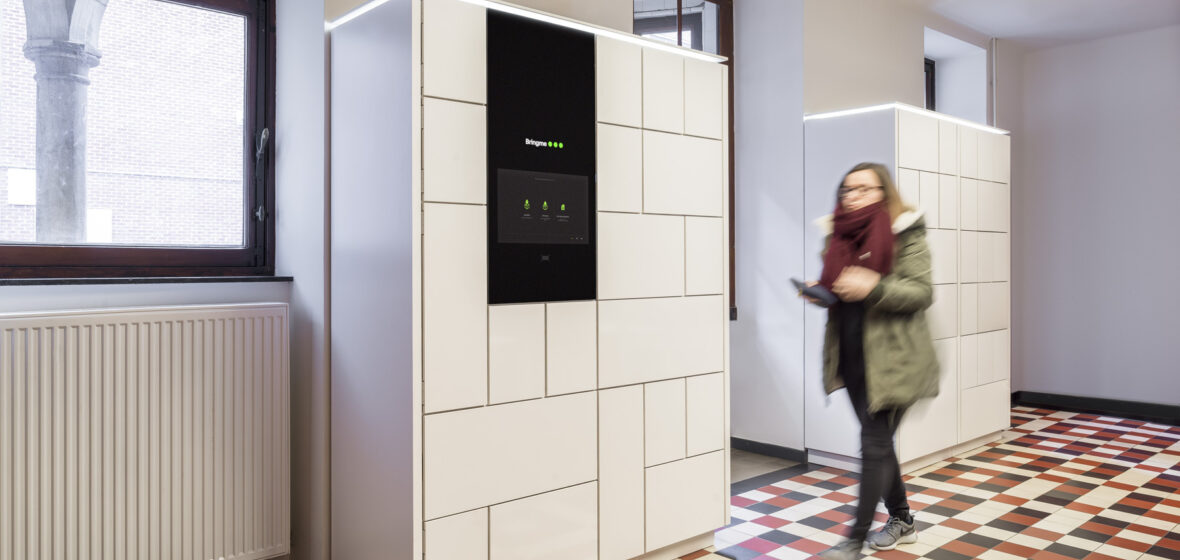 40,000 KU Leuven students have been able to use Bringme since December. Different Bringme Boxes were installed at three busy locations: the learning centre AGORA, student restaurant Alma 3 and the department Samenaankoop. KU Leuven employees were already using Bringme, but the university has recently decided to offer the service to all of its 40,000 students too. We fully support their decision.

Download the brochure about the Bringme Box

The students welcomed the service with open arms, even during the study periods. Bringme is perfect for today's way of life. Fewer and fewer students shut themselves away in their student dorms to study. They prefer to hang out in groups and at places with good infrastructures like libraries, student restaurants and learning centres. The 'new way of working' is not contained by space or time, and neither is the 'new way of studying'.

We wonder how Bringme fits into it all. So to experience first hand how students have dealt with Bringme over the first few weeks, we delve into student life. We head off for AGORA, where there's a Bringme Box and more than 10,000 students passing by every month. Daniël Wind and Kristina Nikolova are more than happy to put their textbooks to one side to answer our questions.

25-year-old Daniël has a dorm room. He's doing a transition year in government management and policy at KU Leuven. Kristina, 22, is also in student accommodation and is in her second year of Environment and preventative management at the Odisee (formerly HUB) in Brussels. This university is also part of KU Leuven.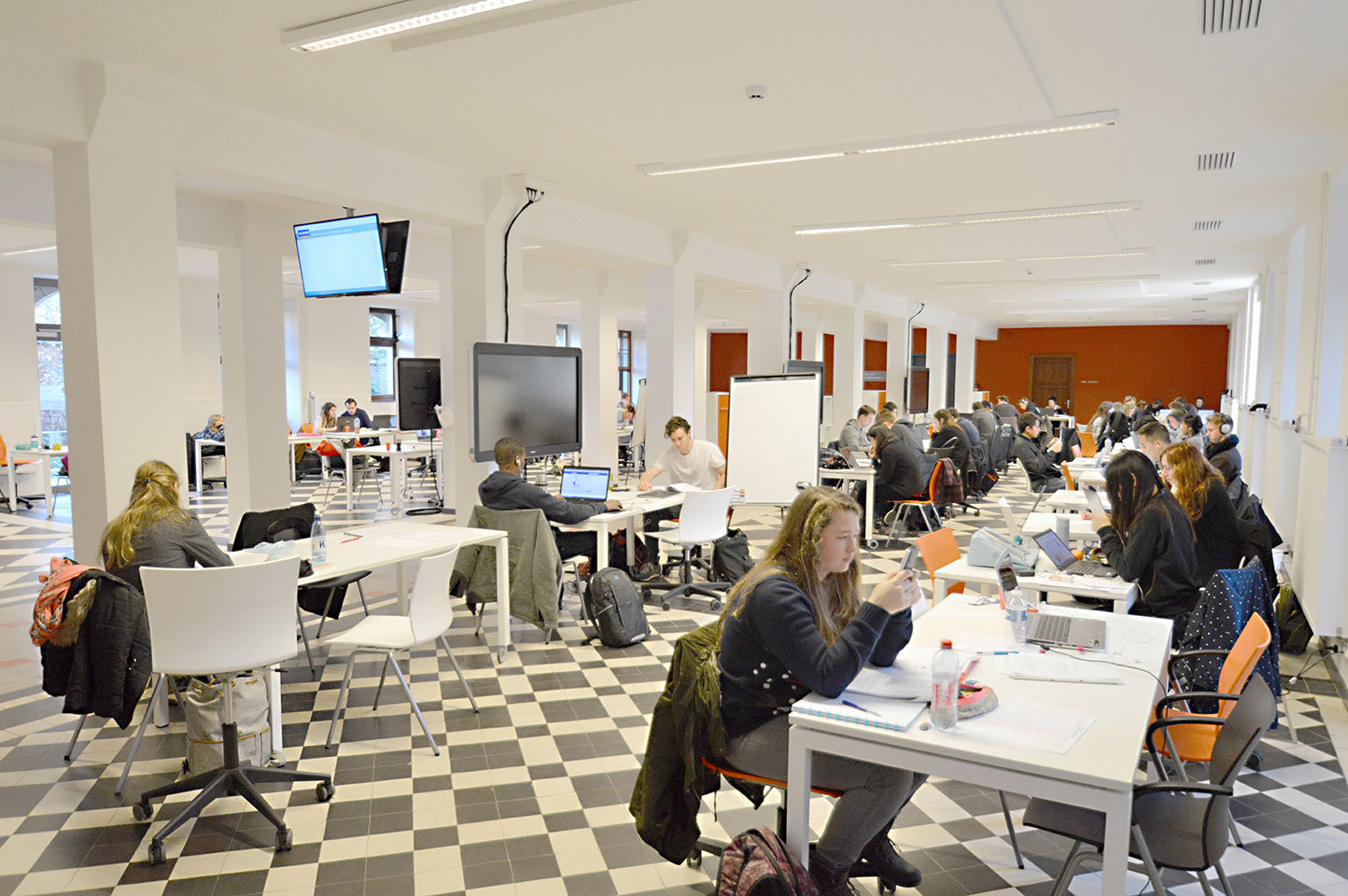 Sorry for the weak pick-up line, but... do you come here often?
D: Sure, every week.

K: . . . and I come here almost every day.
Why do you study here instead of in your digs?
K: I study better when I'm around people. It's stimulating seeing other people studying, sitting in my room is just depressing. I miss the social contact that I have here.

D: I think that KU Leuven is taking the initiative in really supporting the 'new way of studying'. There are tons of places to study, charge laptops and telephones, get printing or hire books. And loads of dining areas, for example in Alma's. Plus there's perfect Internet connection everywhere, much better than at my place.
And now a Bringme Box, what do you think about the service?
D: Having something delivered to my dorm is incredibly impractical because I'm never there. Bringme is the ideal solution for me. I come to Agora almost every week to study or get something printed. And my faculty is just next-door so it couldn't be better.

K: I just don't have time to scour the shops buying gifts for my friends and family. So I order online. But getting stuff delivered to my dorm? I don't think so. There's nothing as annoying as having to get my parcel from my flat mate. So, and it wasn't ideal, I got my parcels delivered to a postal delivery point. It's just great that I can get everything delivered to the Bringme Box in Agora now. It's so handy! And the Bringme Box is so nice to use: it's really easy and I just love the design, it's stunning!"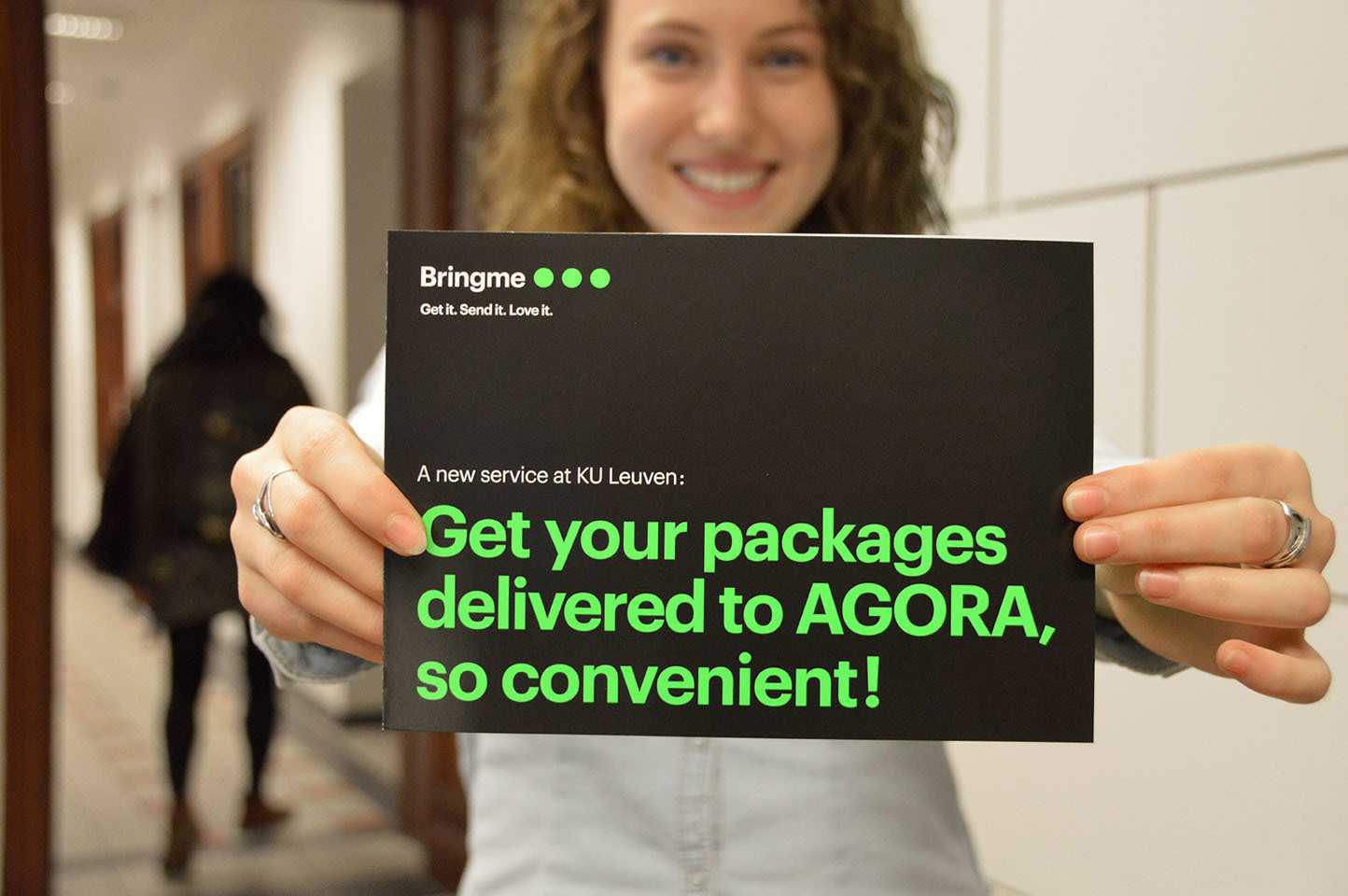 What do you both have delivered to the Bringme Box?
D: Almost everything. You know what, both of my parents live in Holland, so I stay in Leuven during the weekends too. That means I do all of my shopping myself. With the exception of groceries, I order everything online.

K: I'm a vegetarian and I order everything online that's quite difficult to find in the shops, mostly my organic food. My favourite online stores are bodyenfit.nl en detuinen.nl. Anyway, I read on your website that Bringme is actively working on reducing CO2 emissions by grouping deliveries and always delivering first time round. I'm also concerned with environmental issues, hence my chosen studies, so I love this kind of initiative!

Thanks for the compliments and good luck with the studies!