BPD sets itself apart from competitors with Bringme's Digital Concierge
For its three residential projects in Nijmegen, Bouwfonds Property Development (BPD), a foremost developer in the Netherlands, aimed to set high standards in service, reliability, and user-friendliness. The growing demand from residents for a streamlined parcel management system led Berry Evers, senior developer at BPD, to Bringme.
Below, Berry explains why he opted for the Bringme Box and the Digital Concierge.
How BPD differentiates itself in the property market with Bringme:
Digital efficiency: with the Bringme Box and Digital Concierge, BPD addressed the increasing online orders and the changing needs of its residents.
Complete solution with flair: the design of the Box surpasses traditional, tin parcel lockers and mailboxes.
24/7 reliability: Bringme guarantees residents a reliable service with parcels always secure and within reach.


Residential comfort in a digital all-in-one solution

"With the digitalisation of our society, we noticed a clear increase in online orders. The demand for efficient parcel solutions for our residents grew," says Berry Evers, "We chose Bringme because it's a user-friendly complete solution that's available 24/7." The fact that Bringme offered a combination of bell, mailbox, and parcel box - much more than its competitors - was a decisive factor for Berry.
With Bringme, we distinguish ourselves from competitors in terms of service. With the Box and the Digital Concierge, we make our projects very appealing.
Vincent, resident and Bringme Admin, shares how pleased he is with the Bringme Box: "It's a fantastic invention. You get a notification via the app when mail or a parcel has been delivered, so you no longer need to walk back and forth to the Box to check. You also know that your parcel is safely stored if you're not home. No more picking up parcels from neighbours or asking them to accept your delivery.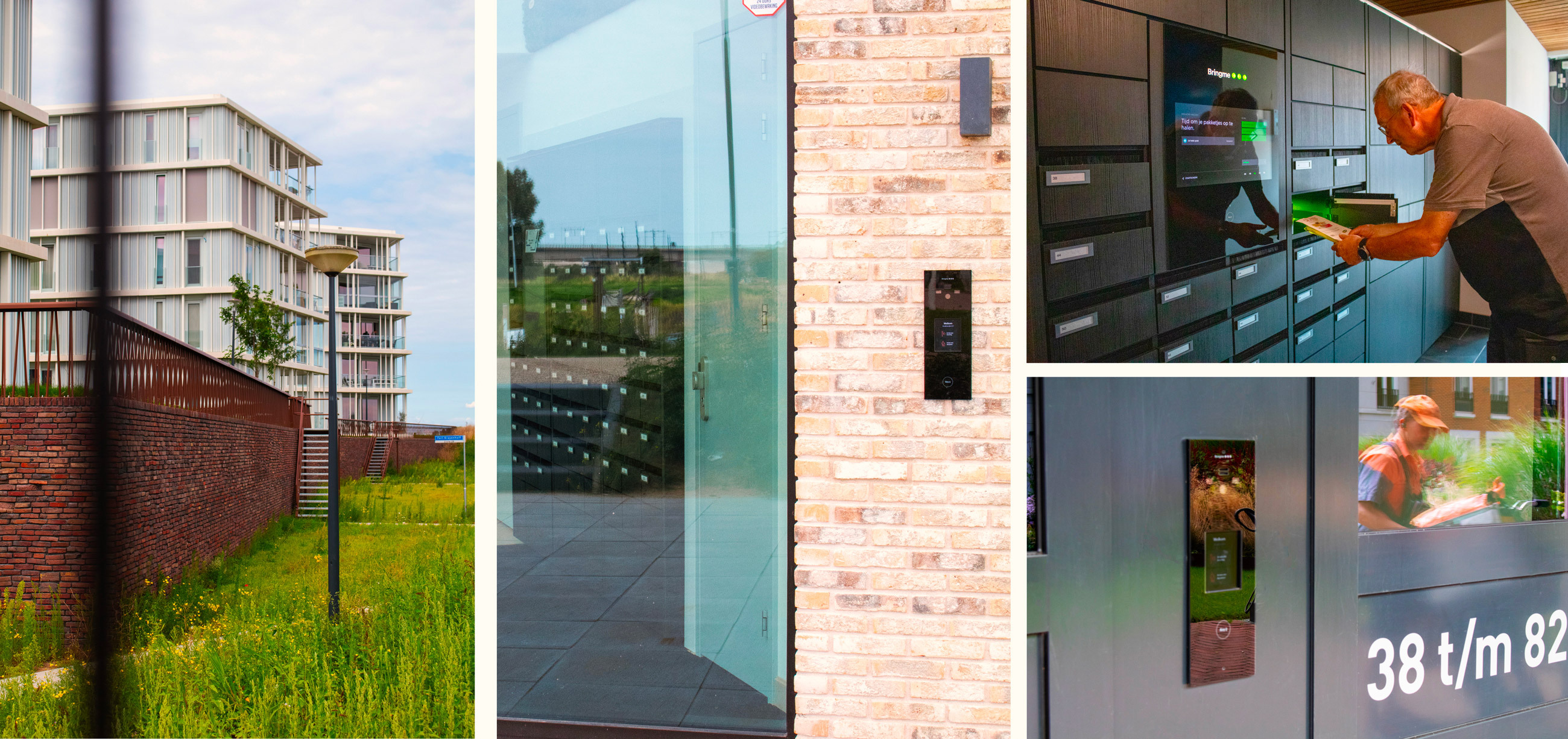 Award-winning design and ease of use
Where traditional mailboxes fall short in design, Bringme offers both aesthetics and functionality. The Box fits perfectly with the building's look and appears luxurious and tidy. "We chose Bringme not only because of the complete solution and the excellent service but also because of its superior appearance compared to its alternatives. The Bringme Box looks much better than the standard tin mailbox or parcel locker," says Berry.
Bringme is a comprehensive solution, backed by dedicated Aftersales and a Help Center. This ensures our residents can count on its availability 24/7.
Hassle-free management
"Any issues are addressed quickly and efficiently," Vincent states. "If I send an email to the Bringme Help Center, I get a response within a day. Moreover, managing the Bringme products is very easy via the Bringme Manager. In a few clicks, I've added or removed new residents." The combination of a smart software and hardware solution with a dedicated Bringme service team ensures everything runs smoothly 24/7.