Flexibility of Human Resources
Bringme has recently introduced the Flexible Income Plan for its employees. What exactly is 'FIP'? And why does it fit in so well for a fast-growing company like Bringme? We spoke to HR about it.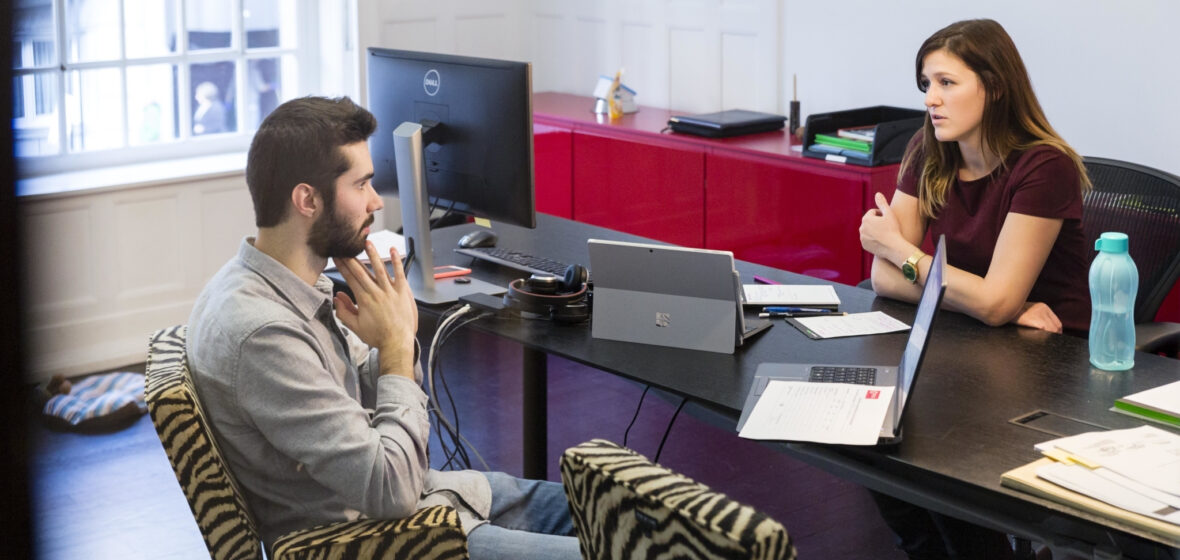 Is it easy to attract the right staff for Bringme?

"No, absolutely not. Especially because we need highly technical individuals like software developers and hardware specialists. Finding this kind of talent in such a small pool is definitely a challenge. Non-technical individuals are easier to find, but again, it's really important to attract people with the right attitude: with flexibility and enthusiasm to take on responsibility and to show entrepreneurship in a dynamic company."

Have a look at our vacancies
How do you try to make the employees happy?

"On one hand we offer job functions that are challenging and not limiting or defined. You can easily define your own role within Bringme and demonstrate entrepreneurship in your job. If you have an idea and there is room and budget, then you can implement it.

On the other hand, we try to be flexible with the salary and benefits packages. Every employee has personal needs. You have people who need money because they're rebuilding their homes or starting a family. And then there are other people who would prefer to have a larger car. We want to capitalize on the Flexible Income Plan (FIP)."

What is the Flexible Income Plan?

"The FIP offers flexible fringe benefits for our employees. This means that the usual fringe benefits like; a car, a mobile phone, a bonus, additional holidays and year-end bonus are calculated in euros. And you can set these euros off against something else. For example, you can use part of your year-end bonus to upgrade your phone. Your year-end bonus would then be lower, but you could get an iPhone 6 instead of the standard smartphone that we offer. It all depends on what you as an employee consider personally important. Your 'shopping-budget' is the total amount of the all-in costs of all the fringe benefits, so you always end up with a substantial sum left over. You're free to use that as you wish."

Why did Bringme choose FIP?

"Our company is growing so quickly that we need to keep recruiting and yet the cost of employing staff in our country is increasing and the profitable tax benefits are being abolished. The FIP fits our desire to do something extra for our staff whilst trying to keep the cost of wages manageable.

The main reason is retention: we want our staff to be happy. Our approach to address each individual's needs tells our employees that they are significant to our business. Of course, it's also an additional tool for our recruitment strategy."

What do the employees do with their Bringme FIP?

"I don't know if it's a coincidence, but there are a lot of car enthusiasts working at Bringme. Thanks to the FIP, they can pimp their cars with extras rather than being merely eligible for a base model.

Another plus point isretirement savings. The retirement savings plans that employees privately contribute to, and therefore declare in their annual in tax returns, can now be paid via the FIP whilst retaining the tax benefits. And that's a huge hit. But there are lots of great options. You can use your extra holiday leave (you get six days off annually if you get a positive evaluation,) as a wage or shopping budget (again converted to "all-in" costs). And you can spend those pennies however you want.

There's also another option that few people know about:supporting worthy causes. It's something we try to encourage the staff to become involved with. And we try to lead by example: Over the years, Bringme has supported two organizations in Leuven. Firstly Lampeke, which focuses on community work and secondly Poverello, which provides basic needs for the underprivileged. Employees at Bringme choose which of the two they'd like to support. Last year our employees paid € 436 to charities through the FIP. And considering this was our start-up year, I'm convinced that this amount will definitely be higher next year."